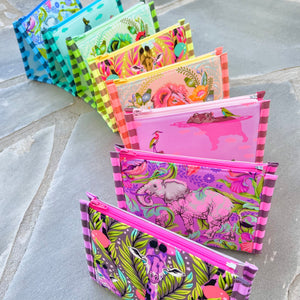 Custom Pink Elephant Small Booklet Pouch
Everglow Small Booklet Pouch
Please allow time for bag to be completed 
Sturdy pouch in a booklet format.
4 see-through vinyl pockets to see contents at a glance.
Zips up securely for travel or storage.
Great to use for sewing, stationery, kids toys, travel and more.
Handmade using the Booklet Pouch pattern by Aneela Hoey.
Closed Size: 6"x8"x3"
Made with Tula Pink Everglow, Neon True Colors and Tiny Stripes fabric. Booklet lining is By Annie Soft and Stable for great lasting body and stability. Zippered pouches are By Annie Premium Vinyl that is moisture resistant.
Perfect for on the go EPP and Applique sewing.
---
We Also Recommend