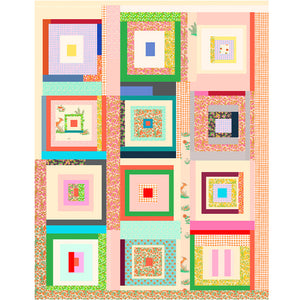 PRE-ORDER Housetop No. 6 Quilt Kit Forestburgh by Heather Ross
PRE-ORDERS are NOT in stock and have an estimated release date of November 2023

Quilt Kit Includes:
- Pattern
- Forestburgh Fabric by Heather Ross (top and binding)

After more than a decade in New York City, Heather recently moved with her family (and small herd of rescue animals) to Forestburgh, New York, a very small town in the Southern Catskills. Forestburgh might be small, but it has all of the things that she feels are important: a general store that serves up friendship, excellent cookies, and a good IPA, a volunteer fire department (that's the way you know that you are among good people) and a dependable rope swing over clean, clear water.

Prints in this collection are inspired by Heather's daily life in Forestburgh: the pair of fawns that frequent the woods surrounding her studio, the apple trees that mark long ago homesteads, and the thick carpet of clover that makes for excellent barefoot afternoons wandering her own unkempt gardens. A bit more serious than many of her past collections, Forestburgh includes moody, earthy colors punctuated with bright greens and yellows. 27 designs in three colorways provide ample options for quilts, bedding, and much much more.
---
We Also Recommend