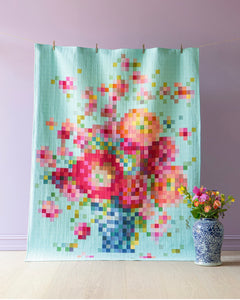 Embroidery Flower Vase Quilt Kit
This gorgeous quilt is on a similar theme to our popular Embroidery Flower Quilt, as it uses needlepoint as the inspiration. The quilt is also a wonderfully creative way of showcasing our beautiful solid fabrics. The design is made up of just squares in a single size, so there's lots of easy cutting. The piecing is straightforward and will give you plenty of practice at seam matching. The sky teal background is also pieced as individual squares rather than strips, to continue the appearance of an embroidery. 
Finished Quilt Size: 63.5"x81.5"
Quilt Kit Includes:
- Pattern
- Tilda Solids Fabrics (top and binding)
---
We Also Recommend