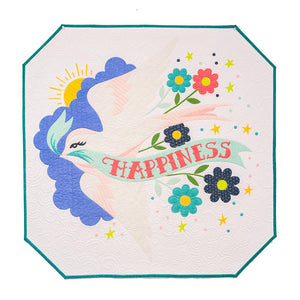 Happiness Quilt Kit
Happiness, a free-spirited, light-hearted 45" x 44" wall hanging, features pastels and bright fabrics that bring this joyful reminder to life. Designed by Punkin Patch Craft Designs.
EVERYTHING YOU NEED for appliqué quilting, no running around to local shops or extra shipping from multiple online stores.
Perfect as a wall hanging or quilt centerpiece. Easily add pieced blocks or borders around the centerpiece to convert into a twin, full, queen, or king-size quilt. Kit includes: Laser-cut Applique Pieces, fused with SoftFuse Premium Fusible General Applique Instructions (specifying iron temperatures and what stitches to use) Madi Hastings' pattern.
Basic Quilt Kit Includes:
- Pattern with full-size layout guide
- Pre-fused laser cut appliqué fabric pieces (top)
**Doesn't include background fabric or binding in basic kit
---
We Also Recommend