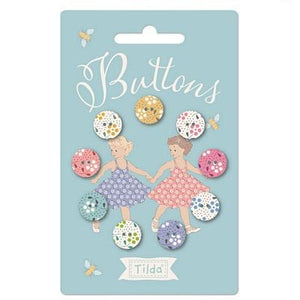 Happy Camper Meadow Basics Buttons by Tilda
Contains 9 12mm buttons.
100% Cotton Print from Happy Camper's Collection by Tilda designed by Norwegian designer Tone Finnanger. The new Happy Camper's spring collection with soft detailed vintage patterns is sure to be a new Tilda classic. With flower motives and tiny bees swirling around combined with the homage to childhood camping trips. The new vintage-inspired Meadow Basics giver you tiny flower patterns in a palette that combines nicely with any Tilda collection. These are the first collections to be released in the new Premium Quality. 100% Cotton-Oeko-tex. Three new grey solid colors in premium quality cotton are beautiful contrasts to the soft, sweet colors of the Happy Campers and Meadow Basics collection. Needless to say, the collection matches the Classic and Tea Towel basic fabrics.
---
We Also Recommend