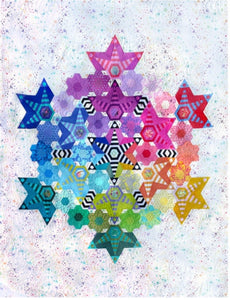 Starry Meadows Quilt Kit featuring Tula Pink
Starry Meadows was inspired by Tula Pink's collection Tiny Beasts A simple pattern with exciting prints peeking within the simple medallion style motif!
Finished Quilt Size: 56"x60"
Quilt is English Paper Piecing
Quilt Kit Includes fabric for top and binding. Fabric quantities may vary based on fussy cutting selection.
Quilt Kit Includes:
- Pattern
- Complete Papers and 3/8" Acrylics
- Poms & Stripes fabric by Tula Pink
- Tula Pink Solids fabric
- True Colors fabric by Tula Pink
- Tiny Beasts fabric by Tula Pink
- Tiny Stripes & Dots fabric by Tula Pink
---
We Also Recommend